Cinco de Mayo is right around the corner, celebrate Mexican heritage with this yummy recipe.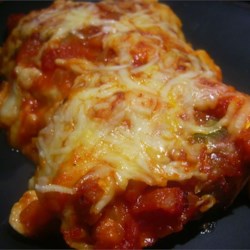 I have used this recipe many, many times and everyone LOVES it!!  Try it out for Cinco De Mayo this year, you won't be disappointed.
Chicken Enchiladas
4 skinless, boneless chicken breast halves
1 onion, chopped
1/2 pint sour cream
1 cup shredded Cheddar cheese
1 tablespoon dried parsley
1/2 teaspoon dried oregano
1/2 teaspoon ground black pepper
1/2 teaspoon salt (optional)
2 cups salsa
1 tablespoon chili powder
1/3 cup chopped chilies
1 clove garlic, minced
8 (10 inch) flour tortillas
1 1/2 cups red enchilada sauce
3/4 cup shredded Cheddar cheese
Preheat oven to 350 degrees.
Cook chicken until no longer pink and juices run clear.  Drain excess fat. Shred the chicken and return it to the skillet.  Add the onion, sour cream, cheddar cheese, parsley, oregano and ground black pepper.  Heat until cheese melts.  Stir in salt, salsa, chili powder, chilies and garlic.
Roll even amounts of the mixture in the tortillas.  Arrange in a 9x13 inch baking dish that has been sprayed with non stick cooking spray with the seam down.  Cover with enchilada sauce and 3/4 cup Cheddar cheese. Bake uncovered for 20 minutes. Cool for 5 minutes then eat and enjoy.
The original recipe can  be found at allrecipes.com
Serve with Mexican Rice and some Southwestern Corn…DELISH!
Don't forget to rinse it down with a cold Margarita  :)